What is Cargo Insurance?
Cargo insurance, freight insurance, rider insurance, shipping insurance and marine insurance are types of insurance policies you can purchase to protect against loss of or damage to your goods while they are being transported from origin to destination via truck, ocean vessel, rail or commercial aircraft. These policies are meant to indemnify you if there is any loss or damage to your cargo. Cargo insurance would cover the goods while they are being transported by sea, air and land. Our wide range of clients enjoy the options of purchasing shipping insurance (freight insurance) for any mode of transport, marine insurance for goods transported by ocean, truck insurance for domestic transport, rider insurance for trucking and freight brokers and air cargo insurance for goods transport by air.
Although the term "marine cargo insurance" is sometimes used, it actually includes cover for the land transit commencing from the moment the goods leave storage up until they arrive at the final warehouse. This policy is usually offered to companies such as freight forwarders, distributers, manufacturers, logistics, importers and exporters.
What Coverage is Available?
All Risk – Covers the goods against damage (partial or total) from physical and external cause including theft, and catastrophe. This is the highest coverage on the policy and will protect the goods while in transit for any physical external cause damage. Total Loss – As the name suggests, this policy covers against total loss/catastrophe of entire shipment. This policy does not cover the goods against partial loss.
How Much Cargo Insurance do I Need to Buy?
The standard practice is to cover the invoice cost of the cargo being shipped, plus freight costs, plus a percentage to cover any additional expenses associated with the shipping cost (normally 10% to 20% is adequate).
Shipments can be insured instantly, electronically, issued online or reported weekly or by your company. This way, unlike property policies, the cargo policy can be issued on a "pay-as-you-go" basis. Annual policies are also available for heavy volume activity.
What is the difference between a single policy, online or annual policy?
Single Shipment:
This is the most popular form of shipping insurance coverage. A One-Time Policy, as its name implies, offers coverage for a single, individual shipment, from the time the cargo leaves its origin, up to the time it reaches its destination. Our clients enjoy an instant coverage with no obligation or any upfront premiums or fees for a one time shipment or occasional insurance need. It take less than 15 minutes to generate an insurance certificate secured 100% by the most recognized insurance companies.
Open Cover:
An Open Cargo policy is offered to clients that insure shipments on a regular basis. Our clients can declare their shipments via insurance submission form or issue certificates online through our website via a user name and password 24-7. Both methods are super speedy way to insure your shipments.
Annual Policy:
This policy will cover the company for all their shipments inbound or outbound for domestic trucking ocean transport or air transport under one policy that will be issued once a year. The terms and conditions which are agreed upon in advance include details of each shipment, annual turnover, the maximum value of cargoes carried in any one shipment, the nature of the cargo, and applicable packaging and rates. Under this policy there is no need to declare each shipment. This policy will provide you with the peace of mind that all your shipments are insured in advance under one policy. As long as the details of the shipment fall within the terms and conditions of the open cover agreement, the shipment is automatically covered.
Why Should You Purchase from Ramon, Inc.?
Ramon International is the ONLY direct broker in the U.S with no intermediaries or middlemen in the chain. We provide you with coverage DIRECTLY, with NO mark-ups or additional fees that other agents that use intermediaries add and you end up absorbing in the cost of your premium. Purchasing shipping insurance from us is exactly like purchasing the insurance directly from the source. Our clients enjoy a super speedy customer service due to the fact that we act as an underwriting insurance brokerage house and our level of authority is equivalent to the insurance company's underwriters. There is no hassle, no turnaround time, no waiting. Our customer service is always right here right now. We receive daily testimonials from our satisfied customers and always grow our business from referred customers.
Our wholesale rates with no mark ups allow our customers to save on cost. Many online websites are not insurance brokers and add a huge mark up. These websites should be verified for the proper licenses. We strongly recommend to check the "about us" of every online website to verify their legitimacy.
Our Mission:
To deliver cost effective Freight Insurance rates in conjunction with superb customer service in order to achieve long term relationships with our clients.
Wholesale Rates Guaranteed as well as Direct Rates & Instant Customer Service.
Most efficient and cost effective Freight Insurance
Online insurance certificates application was issued 15 years ago which was the first launched application ever in the U.S and Canada.
Providing Spot Insurance for all types of cargo up to $75M transported nationwide and worldwide all risk from door to door via electronic insurance certificate issued in minutes to your computer or issued at your office 24/7 with your user name and password.
OCEAN | TRUCKING | AIR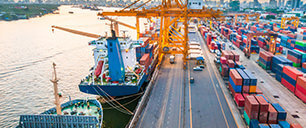 GET A BROAD POLICY AT COMPETITIVE RATES
Save on Cost! 50%-95% Direct Rates!
No Hassle! Instant Turnaround!
Ocean - Air - Truck Insurance
Wholesale Rates from Top Insurers
Highest Rated Insurers
Insuring $3B Dollars a Year
24 Hour Claims Updates